Patch Notes - Adventurer Season 9 Major Update (Jun.18.2020)
by ROE team 2020-06-18 17:12:23
Dear Adventurers,

Welcome to the latest official patch notes for Ring of Elysium. Here are the full details:
Please note:
Ring of Elysium's live servers will go down for maintenance for approximately four hours at:
l Pacific Time: June 18th, 0:00-4:00
l UTC/GMT: June 18th, 7:00-11:00
During the maintenance period, the game will not be available and ongoing games will be interrupted directly. Please be sure to finish all matches before the above time to avoid any issues. Thank you for your patience and understanding.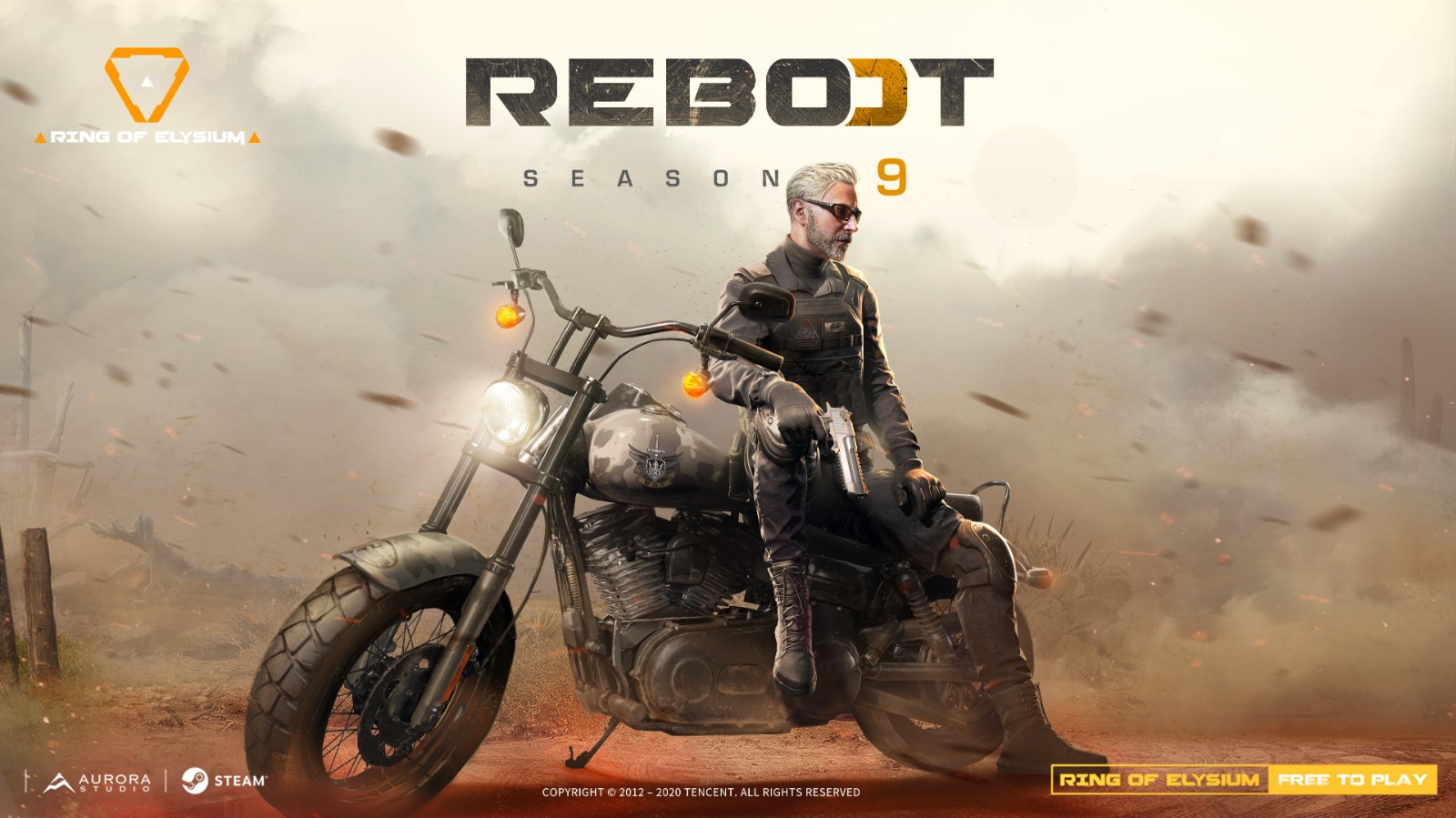 Adventurer Season 9- REBOOT
● Adventurer Season 9 officially kicks off! Unlock the Adventure Pass for brand-new Adventurer Characters, play to rank up your Tiers, earn in-game rewards, and earn 1500 E-Points back!
● The Adventurer Pass spans over the 10-week season and is a way for players to earn exclusive in-game rewards. By playing the game and ranking up the seasonal Adventurer Tiers, players will unlock various epic rewards including:
○ E-points: The S9 Adventurer Pass rewards include a total of 1500 E-points! Players can spend 950 E-points to unlock the Adventurer Pass and earn 1500 E-points back when they hit tier 97
○ Adventurer Characters (does not affect game balance)
■ There will be three Adventurer Characters in this season. All characters have a variety of unlockable styles, and will gradually unlock as the player's Tier increases their Adventurer Pass
● Hawk (Base Character Preview)
●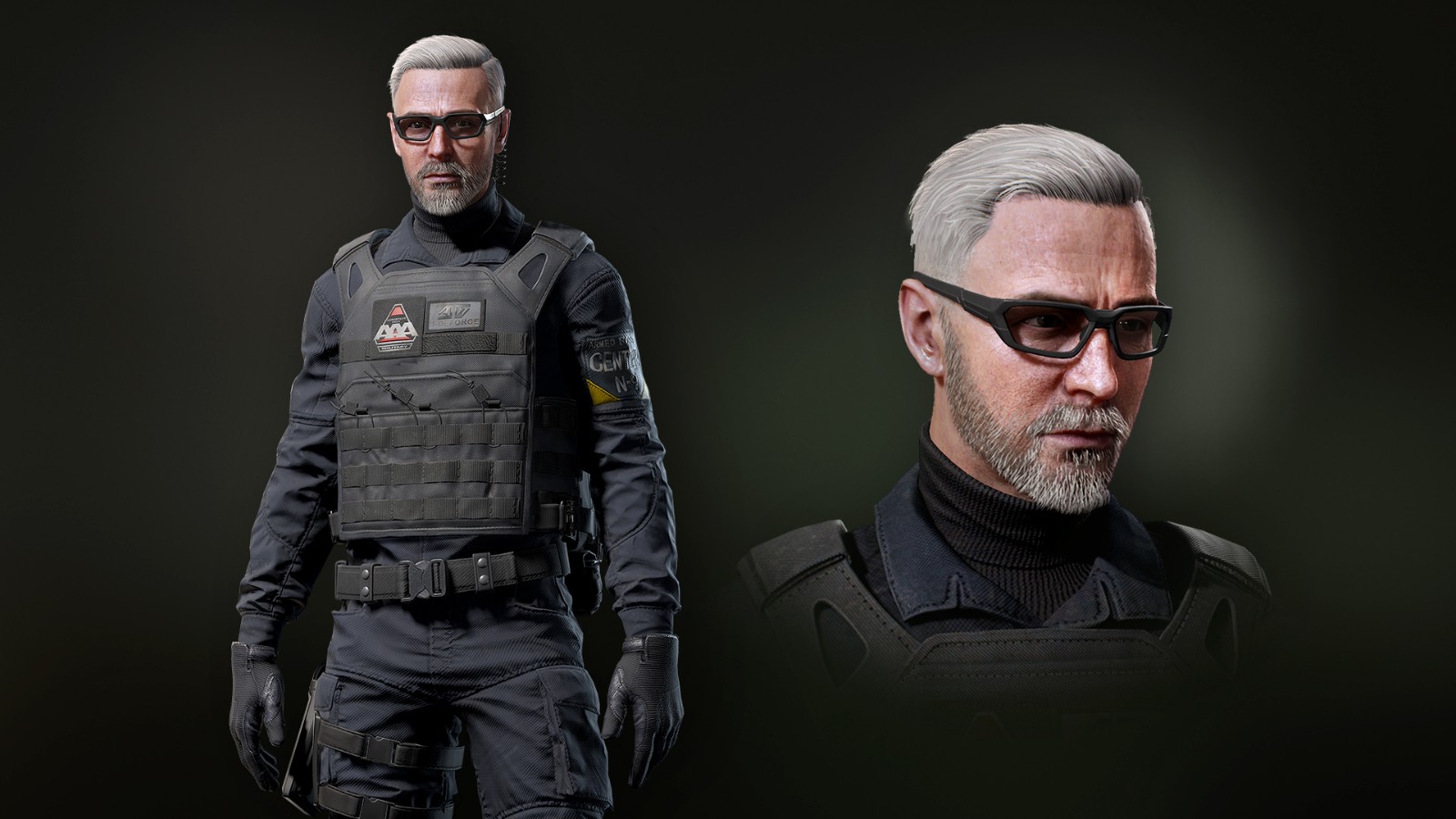 ● Klein (Base Character Preview)
●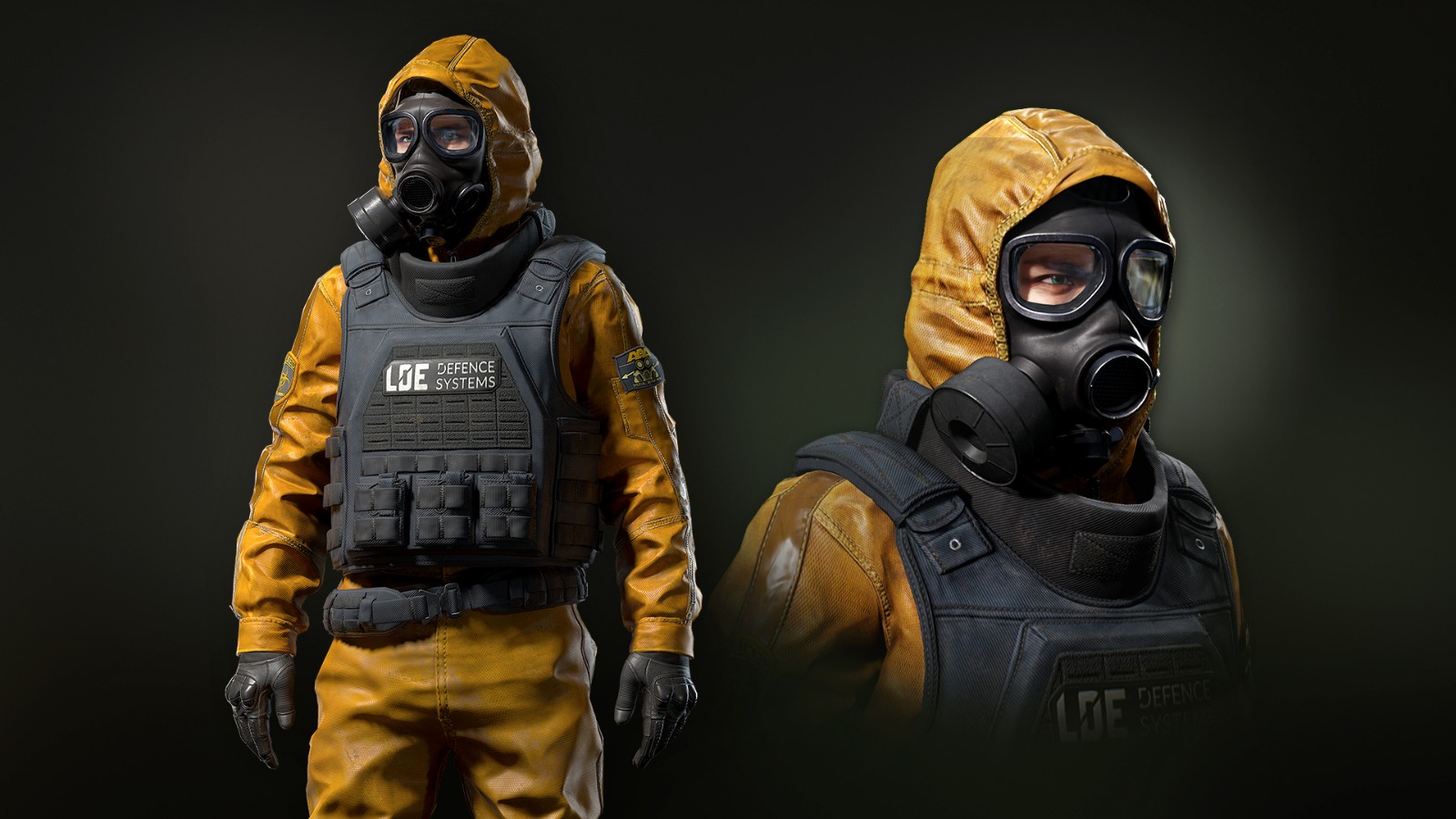 ● Ada (Preview to be revealed)
○ Portraits
○ Traversal equipment appearances
○ Lobby music
○ Loading screens
○ and more!
● The Adventurer Pass is separated into two parts:
○ The Free Pass - all players can obtain rewards by increasing their Adventurer Tiers without any sort of payment
○ The Adventurer Pass, which is available for 950 E-Points. E-Points are a premium in-game currency obtained with real-world money via Steam payment (1000 E-Points is equivalent to $9.99 USD)
● As always, none of the rewards in the Adventurer Pass affects game balance, and all unlocked rewards stay forever
Limited Time Modes
● New LTM- 4v4 TDM "Heavy Caliber"
○ "Heavy Caliber" is the 4v4 TDM mode with brand-new recoil pattern for all weapons and additional gunplay mechanic adjustments, bringing you a more exciting gunplay experience, for more details on the gunplay changes, read below
○ "Heavy Caliber" is available at every Thursday / Saturday / Sunday during the following hours:
NA: 14:00 - 22:59 (Pacific Time)

EU: 15:00 - 23:59 (GMT/UTC)
AS: 15:00 - 23:59 (GMT+8)
● Increased LTM's experience bonus from 200% to 400%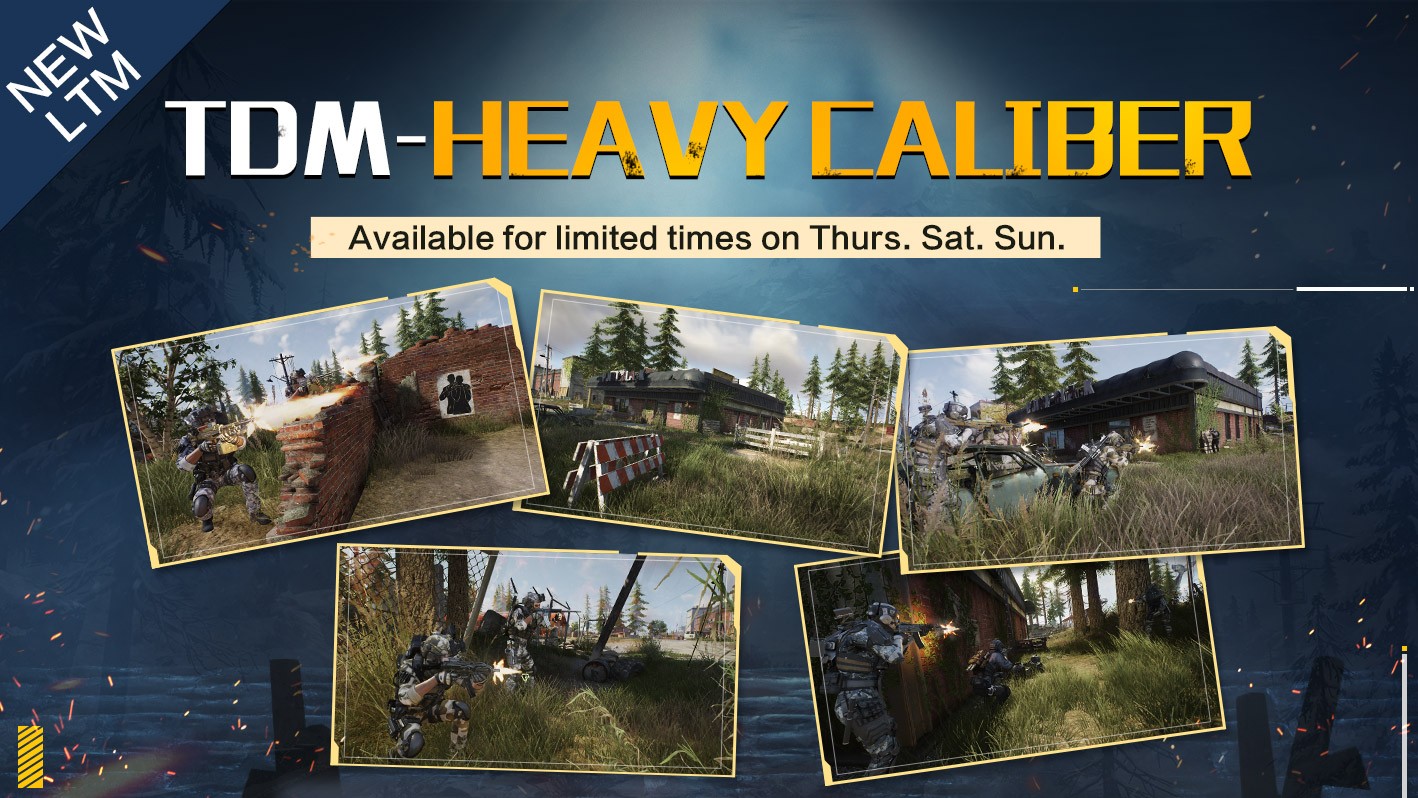 Gunplay
l Weapon Recoil Overhaul
n The weapon recoil mechanic has been updated from the ground up. Different weapons will have their own characteristics, and players will be able to learn and master the recoil pattern of each weapon. Our goal is to bring a deeper gunplay experience to Ring of Elysium by creating actual differences between weapons
n Please note: Players will be able to test out this overhaul in our Team Deathmatch Limited-time Mode "Heavy Caliber" exclusively for the time being
l Weapon Balance
n Bullet travel and velocity is being adjusted as well. Depending on how far away you're shooting, you'll start seeing a more noticeable bullet drop-off. Weapons also now have slightly adjusted ADS speed as well- stocks and the horizontal grip will increased the ADS speed, while the 2x, 4x, and 8x scopes will reduce the ADS speed
n Assault rifles and submachine guns' damage and damage drop-off has been adjusted as well
l Bullet Penetration
n New to Ring of Elysium is the brand-new bullet penetration mechanic for certain weapons. Depending on where you hit a target, the bullet may continue to travel through. After a bullet hits a target, it'll simulate the penetration in the human body and calculate damage according to the location with the highest damage rate
n Weapons with a light amount of bullet penetration are Assault Rifles, Light Machine Guns, and the Desert Eagle. For example, if a bullet hits someone's arm that is lined up to make contact with other parts of their body, the damage will be calculated according to the highest damage area hit
n Weapons with a significant amount of bullet penetration are Sniper Rifles and Designated Marksman Rifles. For example, if someone is behind the first target, the bullet can penetrate the first target and continue to do damage to the second target
n Lastly, SMG, Shotgun and Pistols (except the Desert Eagle) does not have any bullet penetration
l Weapon Performance
n Optimized the camera shake of equipped scopes when firing aiming down sight, making it more intense and immersive, creating a more dynamic difference between weapons
n Optimized the scope sway when aiming down a scope to be in line with the character's breath
n Optimized the animation of aiming down sight in third person perspective
S9 Supporter rewards & Adventurer Pass Owner Exclusive Rewards
● Introducing "Supporter rewards"! Purchase any amount of E-Points during Season 9 to claim a supporter reward pack at the Event Center, rewards include an Epic LVOA-C weapon skin, a vehicle appearance, and a special portrait
● Introducing "Exclusive Daily Chest," Adventurer Pass owners can claim one chest daily for random rewards including portraits, E-Points, weapon skins, accessories, and more!
Lucky Draw- Season 9
● Lucky Draw is back and updated with new rewards! With an epic prize pool including the AUG weapon skin, vehicle appearance, a set of traversal equipment appearances, and accessory!
● Event Period: June 18th – July 15th, 2020 (Pacific Time)
● Event rules:
○ Players can find the Lucky Draw interface by visiting the "Event Center" in the lobby
○ This event is divided into four 7-day stages, players can draw 5 times during each stage and each draw costs 50 E-Points
○ Players are guaranteed to get one item from the prize pool per draw, and items already drawn will not be repeatedly rewarded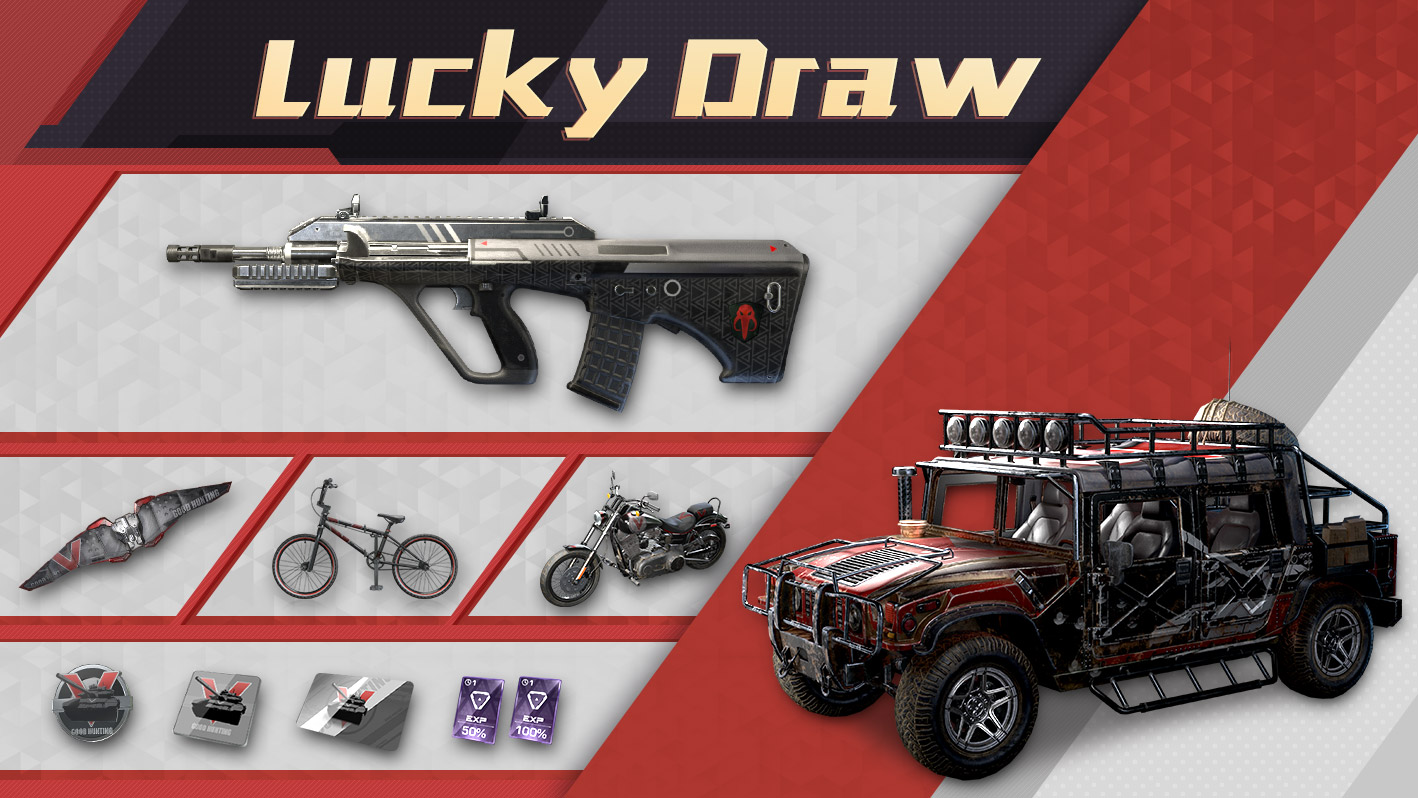 FREE Reward Events in Season 9
● Raging Sea Supply Box & First Blood Lootcrate update
○ Updated the rewards for the two supply boxes in Season 9
● Season 9 Log-in Rewards
○ Log-in to the game to get your special gifts and start off your Season 9 adventures in style! Gifts include a set of traversal equipment appearances and 7-day character and weapon skin free-trial
● Event: FREE SCAR-H Weapon Skin "Deep Sea"
○ Introducing the FREE weapon skin event for Season 9: SCAR-H "Deep Sea"
○ During the event, log-in to get the 14-day free-trial version of the skin immediately
○ You can get 10 points for daily logins and 5 points for completing daily tasks
○ Reach 100 points during the event period to earn the permanent version of the skin for FREE!
○ This weapon skin is limited to this event. After the event, this skin will not be sold in any form. Make sure not to miss it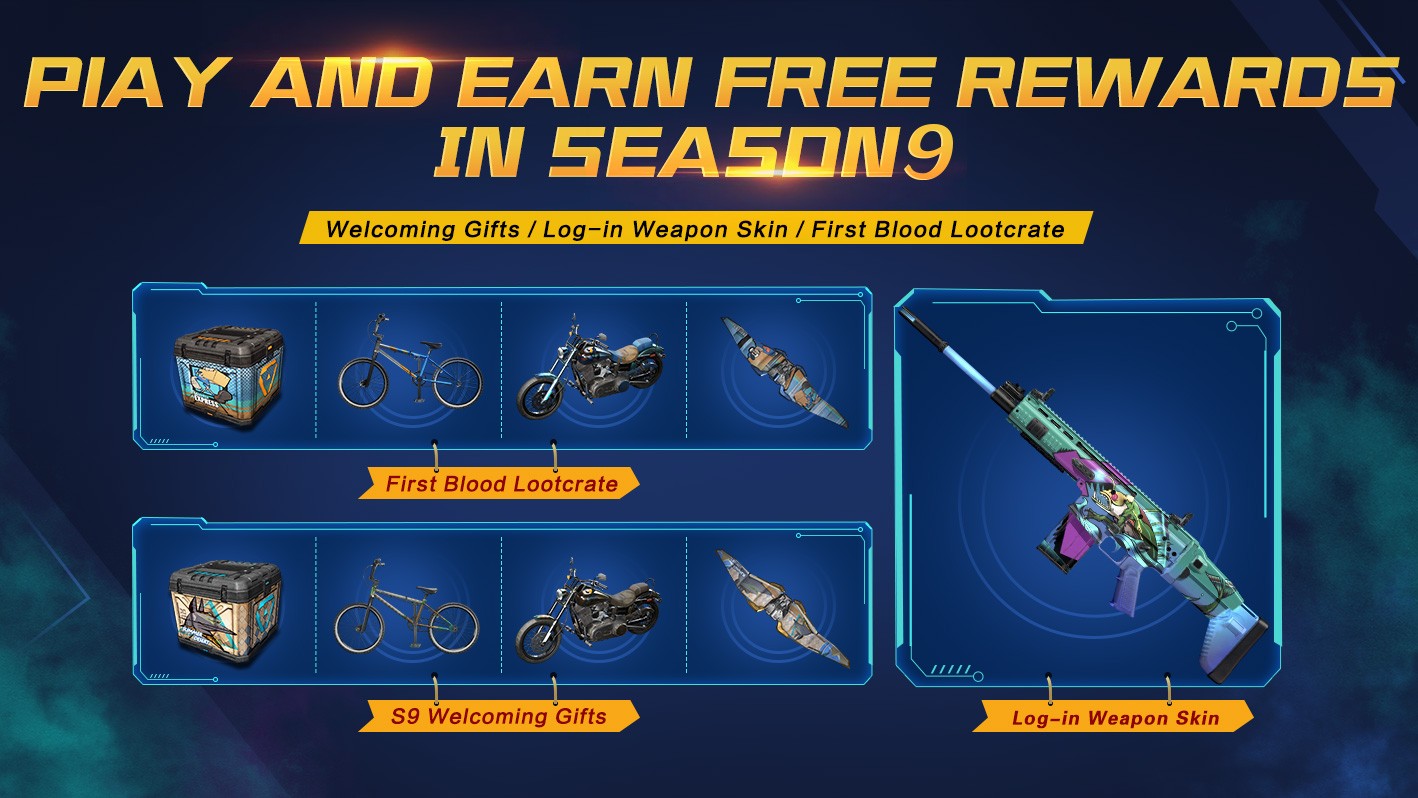 Leaderboard and statistics reset
● With the launch of Season 9, we have reset the leaderboards, player ratings, and all personal statistics. This will continue to happen at the start of every new season
Battle Buddy- Season 9 Update
● We have reset the rewards of the Battle Buddy invitation system and all players' Battle Buddy relationships. Players are welcomed to continue recruiting new Battle Buddies in the Season 9 to join your adventures
Bug Fixes
● Fixed an incorrect helicopter spawn point on Vera
Thanks,
ROE DEV Team