Patch Notes - Adventurer Season 10 Major Update (Aug.27.2020)
by ROE team 2020-08-27 11:44:29
Dear Adventurers,
Welcome to the latest official patch notes for Ring of Elysium. Here are the full details:
Limited Time Modes
● New LTMs
○ Grand Adventure: Europa Island with Wind Tunnels, Respawn Stations, Pirate Ships, and Underwater Treasure
○ Heavy Metal: Europa Island with only Sniper Rifles and RPG-7 as weapon spawns, and Vehicle Mod Kit as the only available tactical ability
● S10 LTM weekly rotation:
○ Monday, Wednesday: Europa Island (6 hours per day)
○ Thursday: 4v4 Team Deathmatch (9 hours per day)
○ Tuesday, Friday: Mt. Dione (6 hours per day)
○ Saturday: Grand Adventure or Heavy Metal (9 hours per day)
○ Sunday: From Dusk Till Dawn or Ashen Eye (9 hours per day)
● LTM schedule for Mt. Dione and Europa Island:
○ EU server: 18:00 – 23:59 (GMT/UTC)
○ NA server: 19:00 – 00:59 (PT)
○ AS server: 18:00 – 23:59 (GMT+8)
● LTM schedule for 4V4 TDM, Grand Adventure, Heavy Metal, From Dusk Till Dawn, and Ashen Eye:
○ EU server: 16:00 – 00:59 (GMT/UTC)
○ NA server: 15:00 – 23:59 (PT)
○ AS server: 16:00 – 00:59 (GMT+8)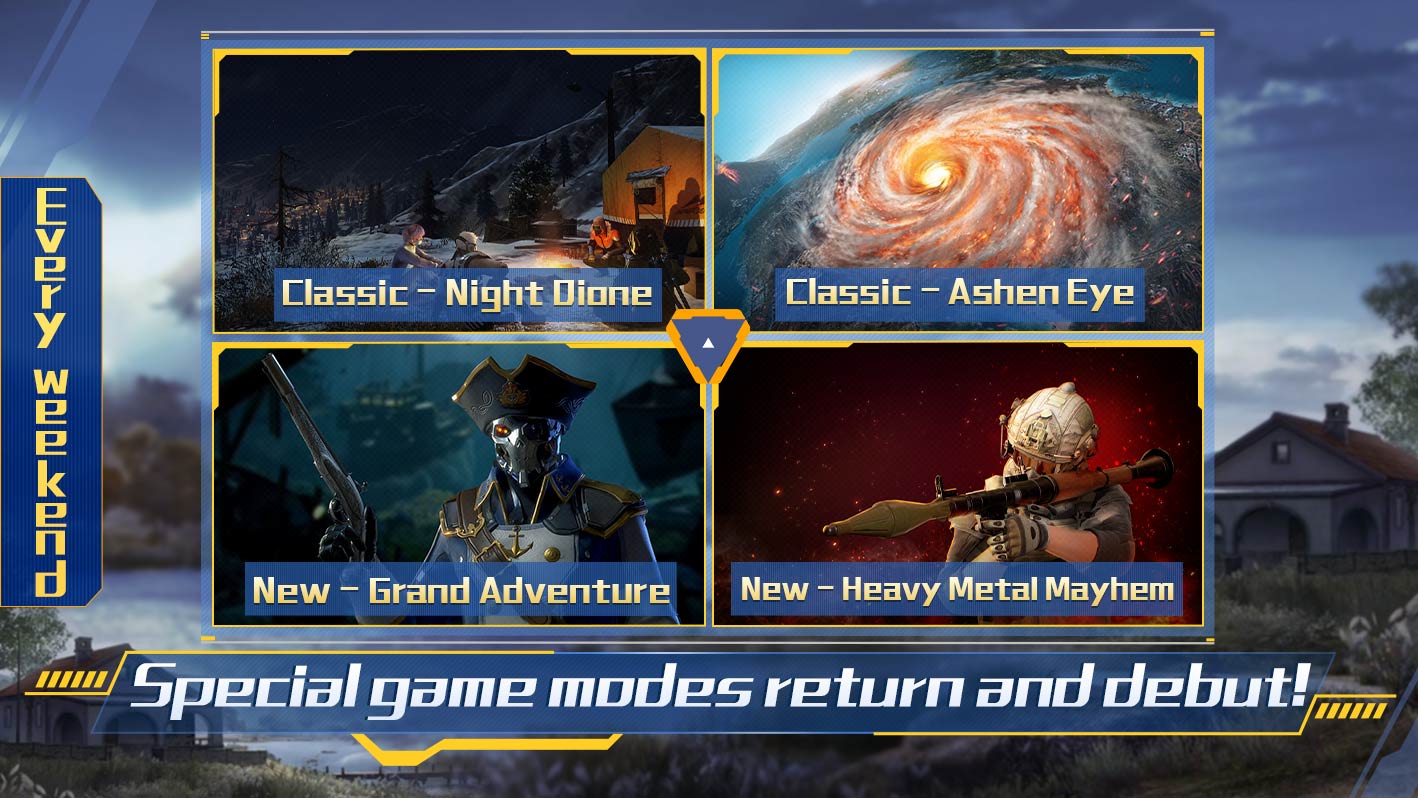 Adventurer Season 10- RETURN OF THE ADVENTURERS
● Adventurer Season 10 officially kicks off! Unlock the Adventure Pass for brand-new Adventurer Characters, play to rank up your Tiers, earn more than 100 in-game rewards, and 1500 E-Points back!
● The Adventurer Pass spans over the 10-week season and is a way for players to earn exclusive in-game rewards. By playing the game and ranking up the seasonal Adventurer Tier, players will unlock various rewards, including:
○ E-points: The S10 Adventurer Pass rewards include a total of 1500 E-points! Players can spend 950 E-points to unlock the Pass and earn 1500 E-points back when they hit tier 97
○ Adventurer Characters (does not affect game balance)
■ There will be three Adventurer Characters in this season. All characters have a variety of unlockable styles, and will gradually unlock as the player's Tier increases their Adventurer Pass
● Igor (Base Character Preview)
●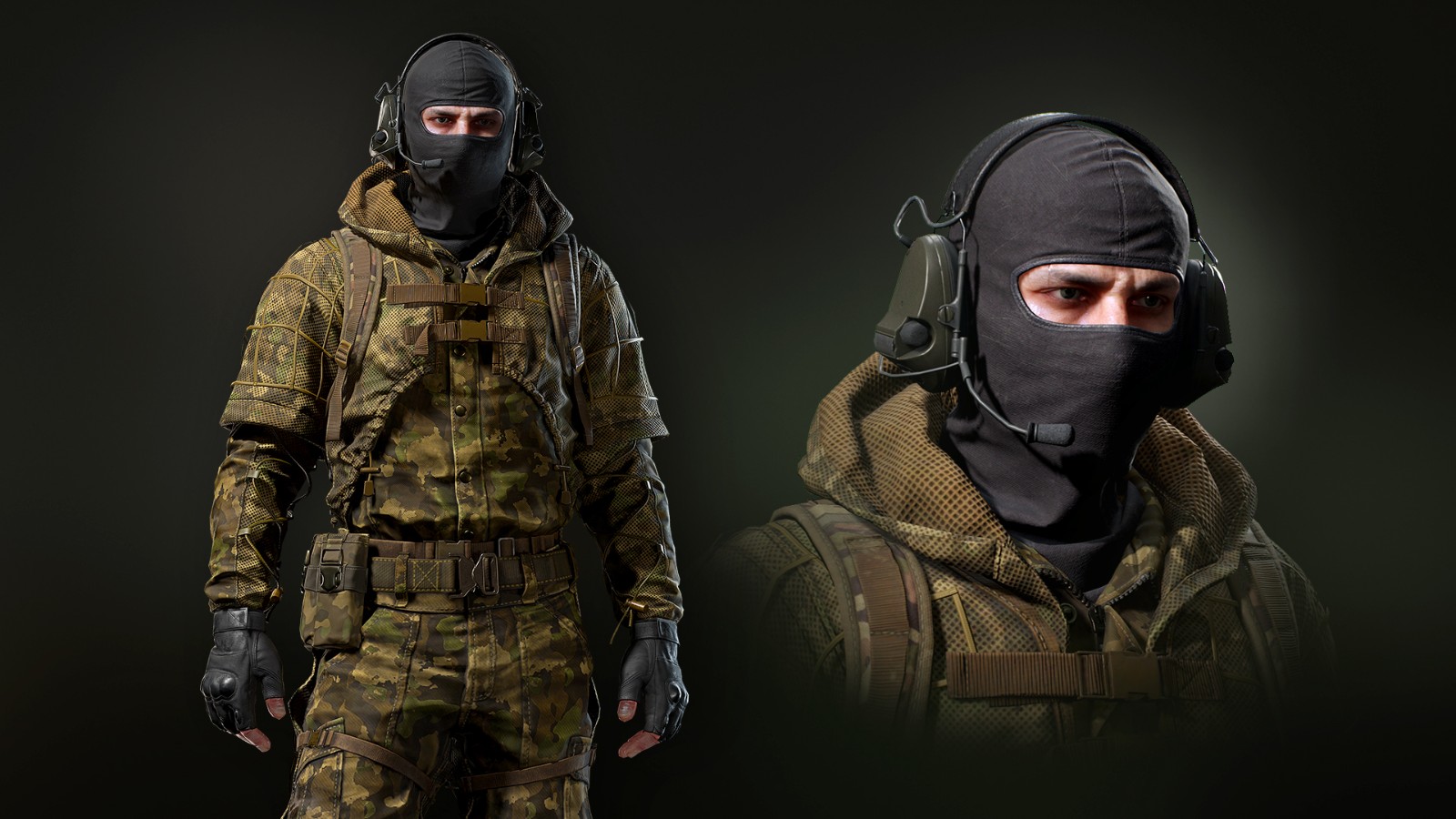 ● Edward Miller (Base Character Preview)
●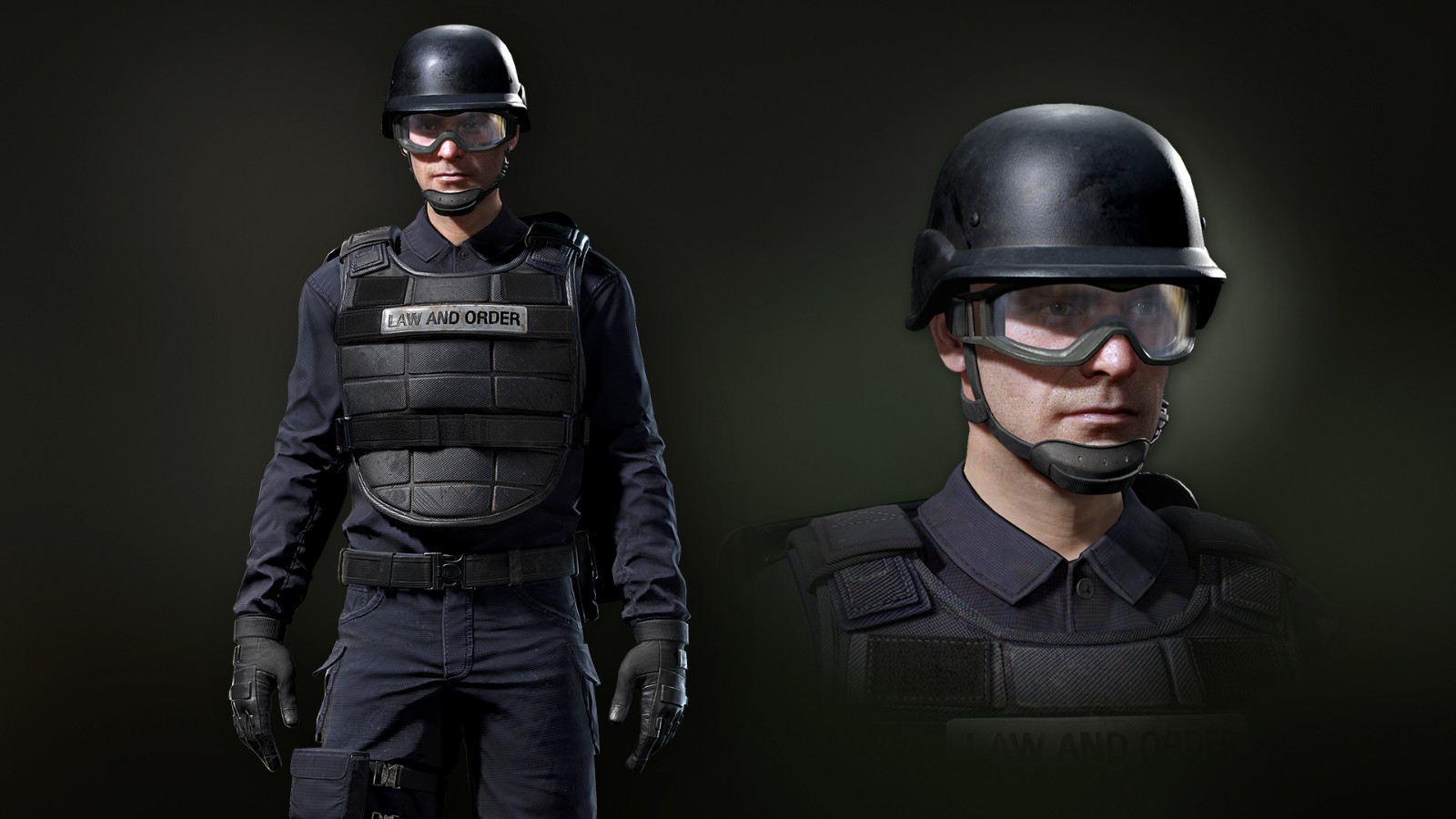 ● Mancy (Preview to be revealed)
○ Portraits
○ Traversal equipment appearances
○ Lobby music
○ Loading screens
○ and more!
● The Adventurer Pass is separated into two parts:
○ The Free Pass - all players can obtain rewards by ranking up their Adventurer Tiers without any payment
○ The Adventurer Pass, which is available for 950 E-Points. E-Points are a premium in-game currency obtained with real-world money via Steam payment (1000 E-Points is equivalent to $9.99 USD)
● As always, none of the rewards in the Adventurer Pass affects game balance, and all unlocked rewards stay forever
Gameplay
l Significantly reduced the effective range of Biosignal Detector
l Added a new set of reload animation for all weapons and improved the reload mechanic. Now, if you have one in the chamber when you reload, the reload speed will be quicker
l Adjusted and improved various weapons' empty chamber reload animations
Coin Store
● Introducing the brand-new "Coin Store". In non-training games, players can now earn coins each game based on their in-game performance (up to a maximum of 35,000 Coins per week)
● Veteran players' "Credits" will be automatically converted into "Coins" at a ratio of 1:1
● Players can spend Coins in the Coin Store to redeem all kinds of rewards, including Weapon Skins, Traversal Appearances, Vehicle Appearances, Portraits, Adventurer Character Trial-cards, and more!
Lobby UI
l Renamed the "Store" tab to "EP Store"
l Moved the "Vault" tab into the "Appearance" tab, which is now called "Rewards"
S10 Supporter Rewards
● Introducing "Supporter rewards"! Purchase any amount of E-Points during Season 10 to claim a supporter reward pack at the Event Center, rewards include an Epic G36 weapon skin, an accessory, and a portrait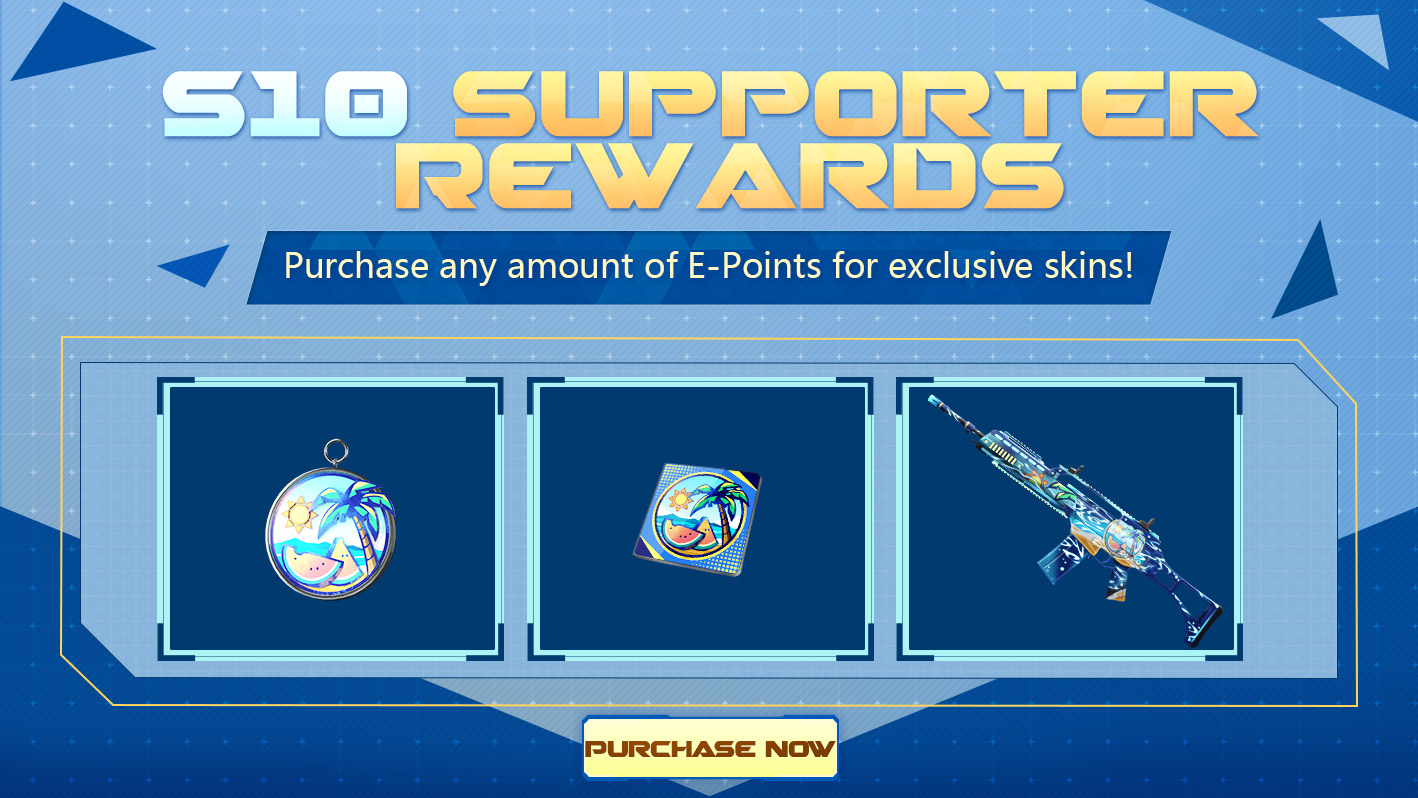 New-player Tutorial
● New players can now choose to skip the "Training Round"
● The process of the first "Training Round" for new players will be significantly faster compared to normal games
● Added various tips for new players to provide guidance for an easier understanding of ROE's unique game mechanics
Returning Players Invitation Event
● Event period: Aug. 27 to Oct. 21
● During the event, earn 100 E-Points per friend you successfully invite back to the game, you can earn up to a maximum of 1000 E-Points
● Only players that haven't logged in since August 13 counts as returning players
● Returning players must use your referral code in-game to count as a successful invitation
Daily Limit Supply Box
● Updated the rewards in the Daily Limit Supply Box with 6 weapon skins, 2 vehicle appearances, and a set of traversal appearances
Adventurer Pass Owner Exclusive Supply Box
● Adventurer Pass Owners will be able to claim a FREE chest every day at the EP Store, which contains random rewards including weapon skins, vehicle appearances, portraits, E-Points, and more
Leaderboard and statistics reset
● With the launch of Season 10, we have reset the leaderboards, player ratings, and all personal statistics. This will continue to happen at the start of every new season
Battle Buddy- Season 10 Update
● We have reset the rewards of the Battle Buddy invitation system and all players' Battle Buddy relationships. Players are welcomed to continue recruiting new Battle Buddies in the Season 10 to join your adventures
DX12 Client
● Nvidia GTX 750, 960, and 1660 graphics card users will now automatically enable the DX12 client
Thanks,
ROE DEV Team