Patch Notes – FREE S14 Pass, Community Skin Vote, Ranked Rewards (May.12.2021)
by ROE team 2021-05-13 14:44:55
Dear Adventurers,

Welcome to the latest official patch notes for Ring of Elysium. Here are the full details:

Pinnacle Challenges
·The S14 Adventurer Pass will have a reward overhaul, new rewards including brand new Adventurer Characters (2 Female, 1 Male), E-Points, Coins and random Coin boxes, weapon skins, vehicle appearances, and more!
·If you want to grab the S14 Pass for free, make sure to complete the Pinnacle Challenges! Complete 7 challenges for a FREE Season 14 Adventurer Pass valued at 950 E-Points, as well as other exclusive rewards!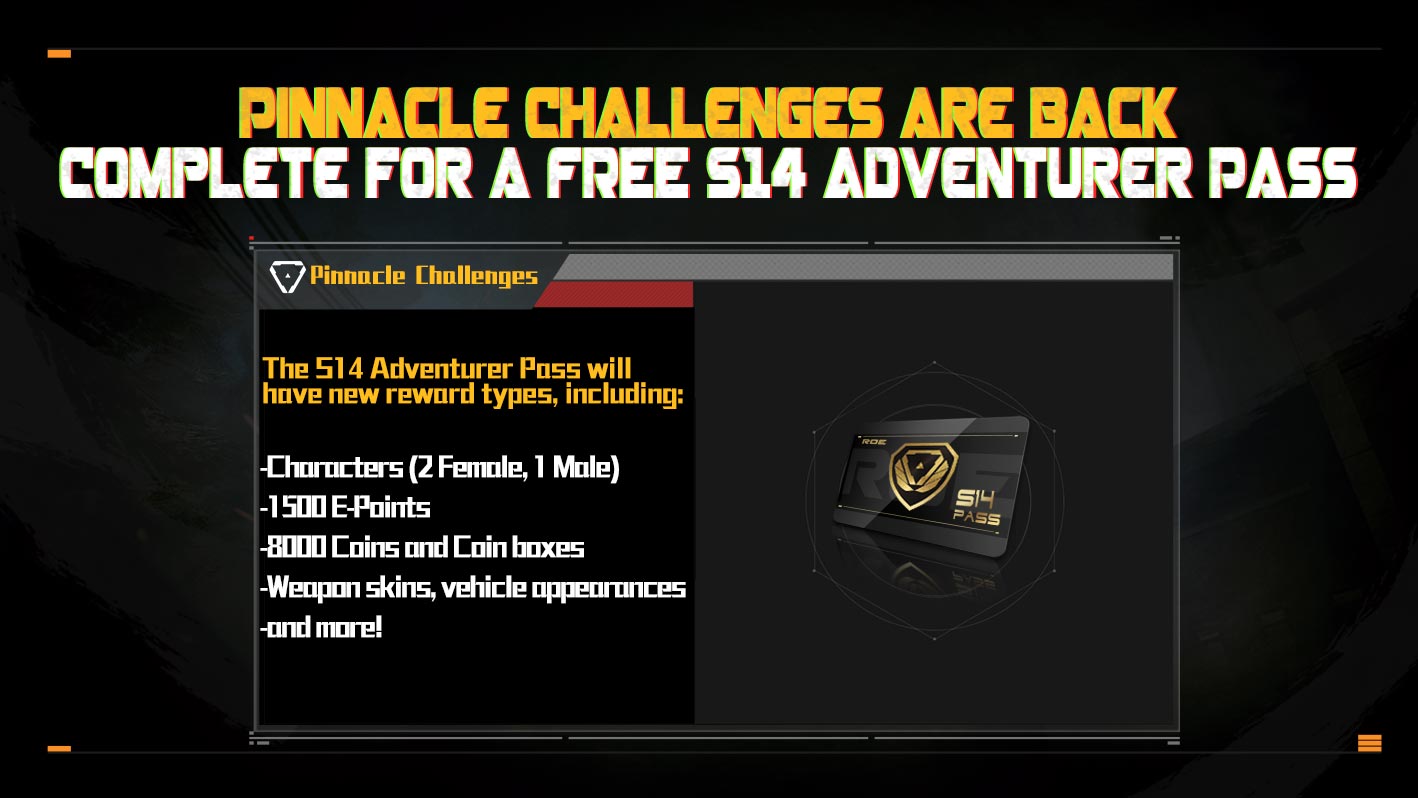 "Mosin-Nagant" Weapon Skin Community Vote
·The next MosinNagant weapon skin will be designed by the community, and picked by the community! During submission stage, we received a total of 31 designs, and after internal review and screening (judging from design, creativity, aesthetic, etc.), the top three were selected for the adventurers to vote ingame to determine the winner. The winning design will be made in the game and open to all players to obtain for FREE in the form of an event
·Voting period: May 12 to May 19, 2021
·Event rules:
·The voting panel can be found in the game lobby's "Event Center", each vote costs 100 coins, and each account can cast up to 20 votes per day
·After each vote, players will get a "Vote Participation Box", open it for random rewards include exclusive timed Weapon Skins, E-Points, Coins, Experience, and more
·Please note: The 100 coin cost per vote refers to the credits earned by playing the game for free, not E-Points which is purchased with real-life currency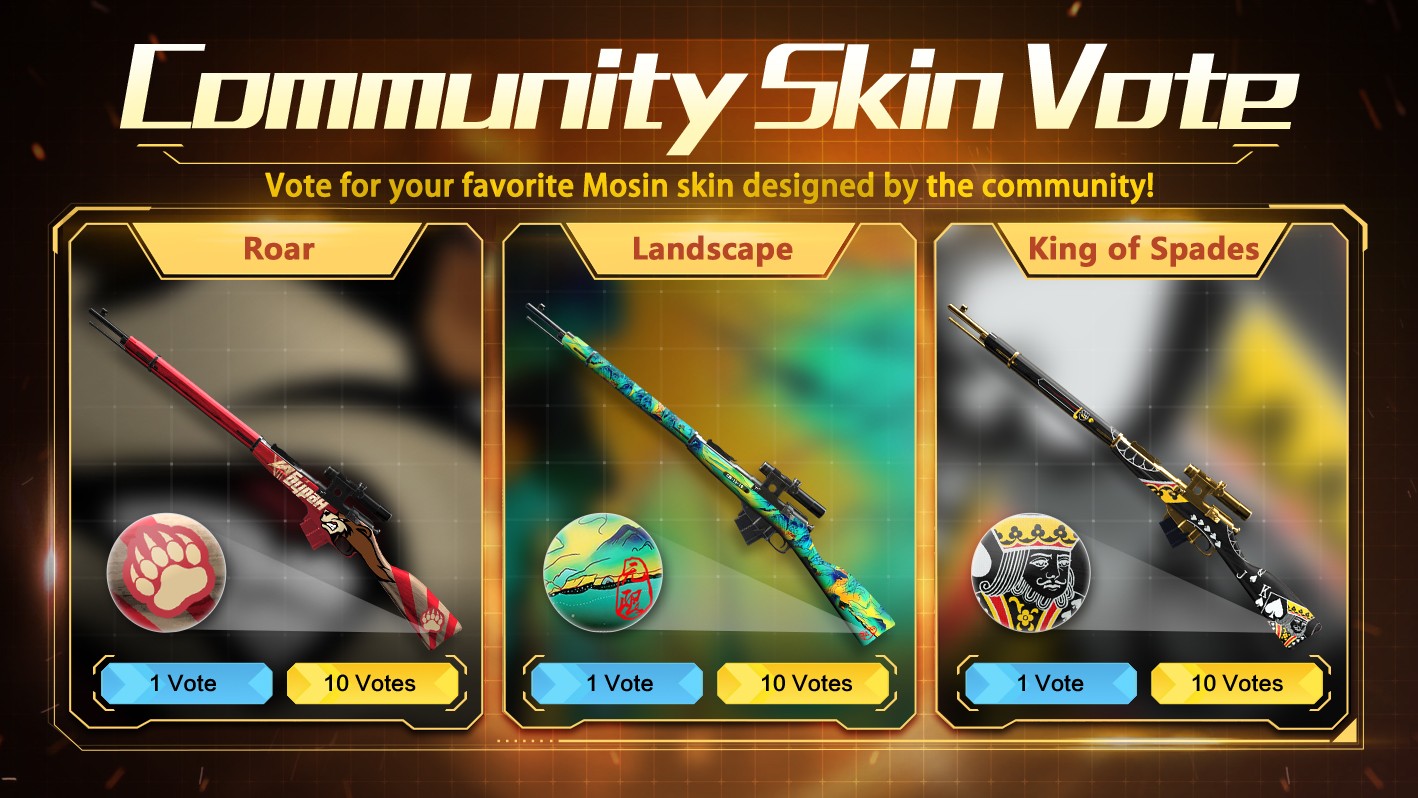 Leaderboard Exclusive Rewards
·We plan to release a "leaderboard exclusive nameplate reward system" with the launch of S14, exclusive "nameplates" will be sent to the top 100 players ranked on the S13 leaderboard according to their positions
·System details:
·Leaderboard nameplates have "Solo" and "Squad" styles, each with five levels of designs, which are issued according to your ranking
·If the same player gets multiple "nameplates" at the same time, the nameplates will be displayed according to priority, "Squad" nameplates takes precedence over "Solo", and higher-level nameplates takes precedence over the lower-level ones
·The total score includes FPP and TPP matchmaking in Solo and Squad mode in each server, that means only 4 total score rankings are calculated in each server
·The nameplate issued is only valid for the current season, for example, the nameplate obtained by players in S14 will expire in S15
·"Nameplates" is force-displayed in front of the player ID and cannot be hidden or changed. It displays in: Leaderboard interface, team interface, in-game elimination info, friend list, etc.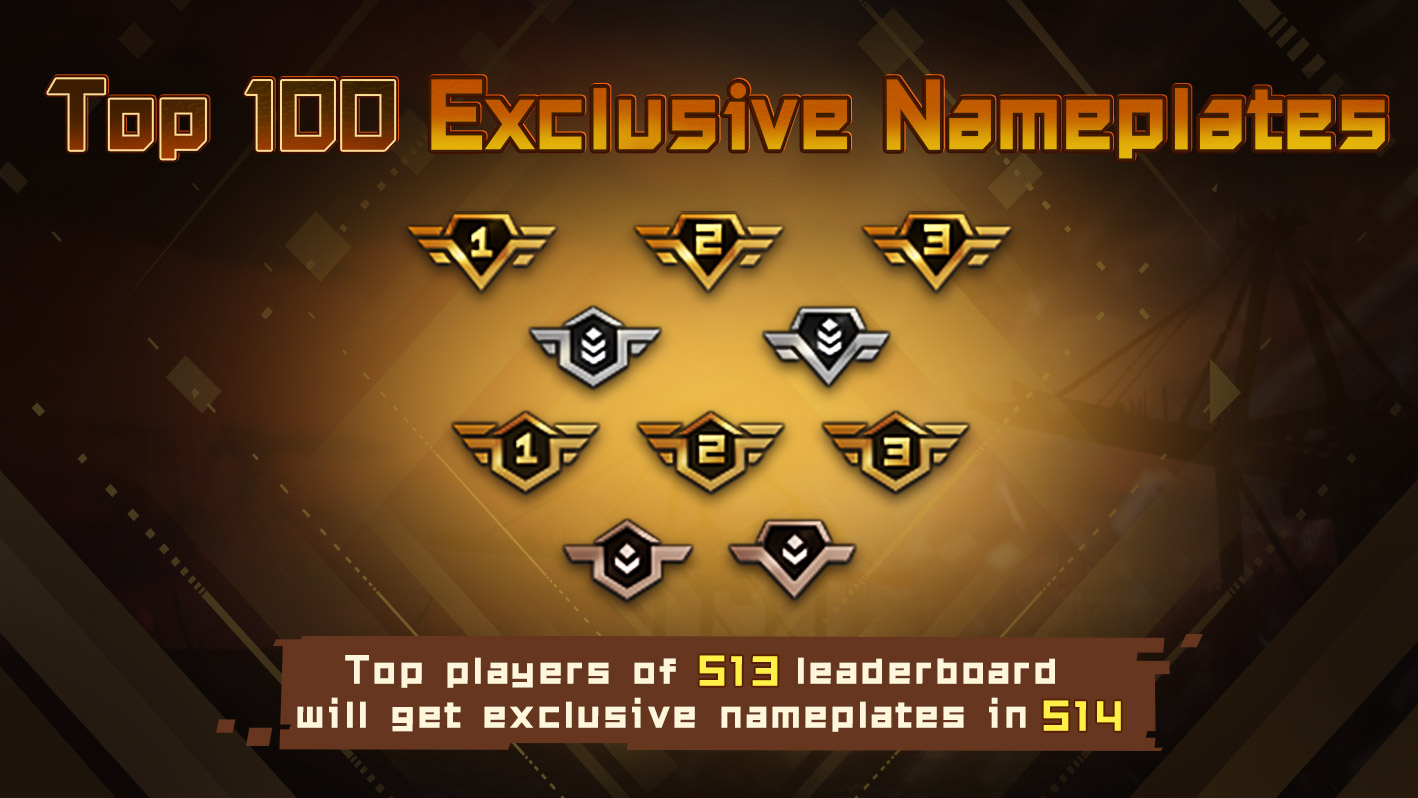 Thanks for playing,
ROE DEV Team